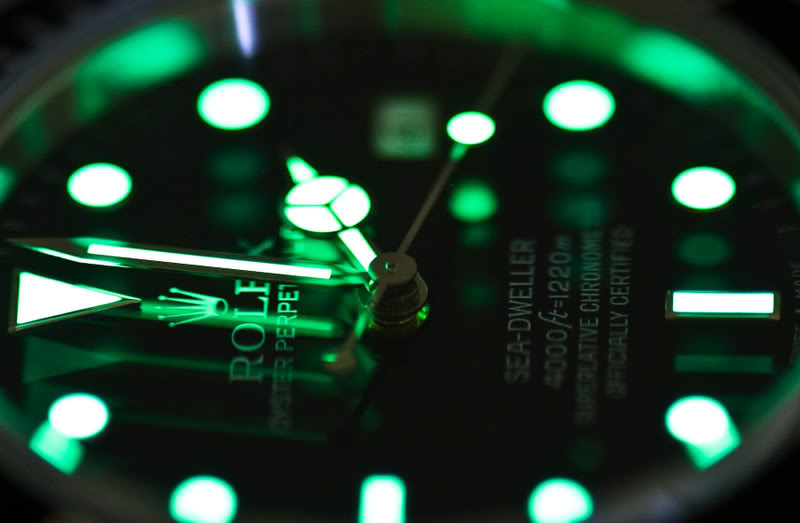 Today only a few late manufactured watches can be found with their tritium material still functional. Most tritium watches do not shine any longer. Luminova and/or Superluminova always shines, but must be 'charged' before it will shine by exposing it to a strong source of light. Luminosity decreases quickly with the time in the dark. It is initially brighter than a new tritium watch but fades as the stored energy from exposure to the light source is used without further replenishment. Dial printing allows us to easily identify which material is used: 
For vintage lovers the "correct" luminous material is an important criteria for purchasing a watch. 
 
Like other manufacturers, over the years Rolex has used different kinds of luminous material on the dials, hands and the bezel pearl on rotating bezels. For a watch collector it is important that the luminous material corresponds to the year of production of the watch and that, whenever it is possible, the same luminous material is present on dial, hands and bezel pearl - and even more so has the same colour or toning. Since the luminous material used previously ages strongly (i.e. it becomes yellowed and fragile), with a complete service of the watch Rolex usually exchanges the hands for new ones and often also the dial. 
 
For maintaining the value of a vintage watch is not beneficial to change these things. However, Rolex does this for practical reasons as a full service is designed to return the watch to you in the best possible cosmetic, mechanical and usable condition. However, everyone may decide whether so send the watch to Rolex with instructions to "keep original dial, hands and bezel - DO NOT CHANGE" or allow Rolex do a complete service. However, there have been reports that Rolex has refused to service some watches unless the hands and/or dial are replaced. This can only be due to Rolex's fears that the old and fragile luminous material may detach and enter the movement. 
 
Again, Rolex's priority is to return the watch in the best possible practical condition. They are not collectors so they see no value to retaining the old dial, hands or bezel. 
 
Letters SWISS
  luminous material Radium used until 1960 radioactive
Letters SWISS - T < 25
Radioactive, radioactivity less than 925 MBq (25 mCi)

luminous material Tritium
used from 1960 until 1998
Letters T SWISS T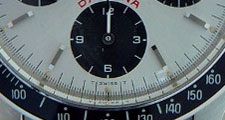 Radioactive, radioactivity less than 277 MBq (7,5 mCi)
Luminous material Tritium
used from 1960 until 1998
Letters SWISS
 Not radioactive luminous material luminova used from 1998 until 2000
Letters SWISS MADE
 not radioactive luminous material Superluminova used from 2000
Until end of the 50s the luminous material contained radium. Afterwards it was replaced by tritium, which is more weakly radioactive. Starting from 1998, supported by laws, Luminova, a non radioactive material, was introduced. Somewhat later (2000) an improved version was introduced - Superluminova. The advantage of the early luminous materials containing radioactive material was their self luminosity. On the other hand, their disadvantage was that their radioactive decay after some years rapidly reduced the amount of luminosity.
CHROMALIGHT :
When Rolex introduced their bluish "Chromalight" lume, many watch enthusiasts didn't know what to make of it. Rolex touts Chromalight as being highly legible, long-lasting and easier to see in murky conditions - conditions you might encounter by diving 12800 feet below the ocean surface with your Deepsea dive watch.
His luminescence is extremly high and durable. Made by profesionnal and used by profesionnal.