One of the many special aspects of a Rolex watch is the unique, five to eight-digit serial number on each timepiece. Performing a Rolex serial number lookup makes it easy to discover Rolex watch values, as you can determine the exact production date. Many older Rolex serial numbers are inscribed by a machine on the side of the watch between the lugs at "6 o'clock."
The bracelet must be detached at the "6" side of the case to view the serial number.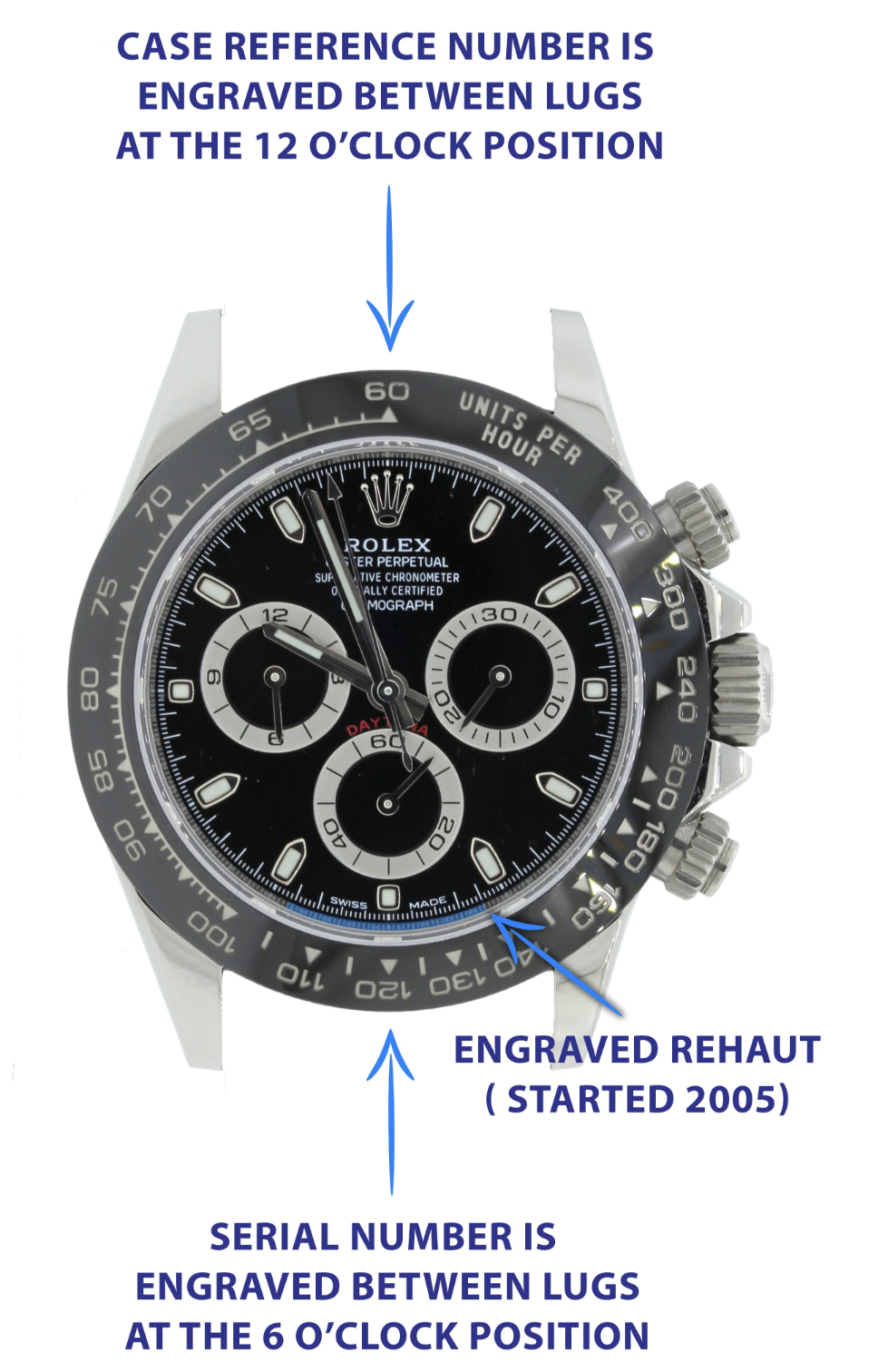 How to Determine Your Serial Number is NOT Counterfeit 
The lettering on the serial number should be perfect and precise, with fine lines. Most counterfeiters use an acid-etching method which produces serial number markings with a noticeable "sandy" appearance under magnification. This is usually a clear indication that the serial number has been re-engraved or that the entire watch may be fake. If you come across a watch and the serial number is not perfect and precise we would recommend not to purchase it.
An original Rolex will have sharp and detailed engraving located between the lugs. Counterfeiters often try to mimic these engraving, the result often appears like the serial number has been roughly etched into the casing.
Although, there is an exception to the rule. Rolex serial numbers and model numbers were not always machine engraved. A vast number of vintage rolex models were hand engraved, thus the engraving will not always look 100% perfect and precise.
These vintages Rolex models that handmade engravings were made from 1920s-1960s.
If you have any questions validating your serial number as it is a vintage watch please feel free to contact our Chrono-Shop team avaialbles 24H/7days.
In 2005, Rolex began engraving serial numbers on the inner watch rims for aesthetic reasons. This inner rim is referred to as the "rehaut." This was a huge success for Rolex. This allowed the Rolex Dealers as well as the customers that owned these models the ability to be able to determine the age of the watch without removing the Rolex band.
In 2010, Rolex began engraving its pieces using randomized, arbitrary, unique identifying numbers rather than following a sequential numbering system. So while it had been relatively easy to determine a watch's age or production year using a concrete database, serial number randomization has resulted in a more challenging lookup process. Many watch enthusiasts refer to these models as "scrambled" or "random" serial number models as they are always different.
There are a few reasons why Rolex began using this new system of serial numbers. According to Rolex, by making the serial number "scrambled" or "random" it would make it harder for counterfeiters to recreate a fake watch. It would also allow their dealers to not get stuck with new old stock if they were unable to sell the previous years models. 
Thanks to Rolex and our Chrono-Shop great team, you can rest assured that all our Rolex watch parts and accessories are 100% genuines and checked everydays.
Rolex Serial Numbers By Years :
The Rolex Factory may not offer an official Rolex value database list that features production dates, however the chart below includes all serial numbers obtained by Rolex authorities over time.
We advise all of our customers that if you are going to buy a Rolex watch, we strongly recommend you to take a look at the serial number of the watch and then verify those serial numbers using our Rolex serial number chart below.
Check out the list to learn about Rolex production dates!
The model number is found on the side of the watch case at the 12 o'clock position.
As with the serial number, the bracelet must be detached from the 12 o' clock side of the case.
For instructions on removing the bracelet, email us or speak with a Rolex expert on What'sapp .
You will require a small screwdriver or tack to carefully remove the bracelet. This should only be done by an experienced watchmaker to prevent scratching to the case or bracelet, but with our assistance you will be able to do it on your own.
Reference Check Tool for 5 Digit Model Numbers
The final digit in the reference number indicates the material the watch is made of:
0–Stainless;
1–Yellow Gold Filled;
2–White Gold Filled;
3–Stainless and Yellow Gold;
4–Stainless with White Gold;
5–Gold Shell;
6–Platinum;
7–14k Yellow Gold;
8–18k Yellow Gold ;
9-18K White Gold;
Examples:
16030 - refers to a men's Datejust that is all stainless steel (0–Stainless; )
16013 - refers to a men's Datejust that is stainless steel and yellow gold. (3–Stainless and Yellow Gold)
16014 - refers to a men's Datejust that is stainless steel and white gold (4–Stainless with White Gold)
18038 - refers to a men's Day-Date President that is 18K yellow gold (8–18k Yellow Gold)
18039 - refers to a mens day-date president that is 18k white gold (9-18K White Gold)
Rolex has engraved their watches with unique serial and model numbers since the 1920s as a way to track production year; the production age of a pre-owned Rolex watch is an essential factor in determining its current market value. Rolex watches appreciate in value, but the value of appreciation will vary. In vintage models, especially within the sport models category based on the scarcity of the model as well as the production run they had in the past can both be two deciding factors that can alter the value of your watch.
If you have any questions valuing your Rolex watch please feel free to contact us.
Age in addition to other factors, such as bracelet and overall watch condition, will help Chrono-Shop team figure the actual fair market value of the watch.
If you need assistance in finding a Rolex serial number, please refer to our chart above.