Created in 1963, the Rolex Daytona watch has developed a career in the sporting world of the automobile and today in the urban world.
For several years Rolex has been constantly modifying it to adapt it to the needs of modern times, while keeping its main function, that of measuring time.
We are going to study in a very simple way, and in a visual way the evolutions of these watch accessories.
Here is an evolution of the first tachymetric bezel with graduations created for the Rolex Cosmograph watches reference 6262 and 6239 and which persevered until the reference 6265.
The typography is slightly different, engraved by hand. The number indicating the oldest is the most recent.
It is the second generation of Daytona watches to which the tachymetric bezel has been evolved by passing it on a bakelite finish for the most famous references: 6241 and 6263
The different evolutions are presented here as numbers (marks) 1 being the oldest, one will observe a slightly different typography.
The world ambassador remains Paul Newman for having been known to have the whole collection. It was his favourite daily watch !
Only the reference Rolex Daytona 6270 has never had a bakelite or graduated bezel (diamonds only)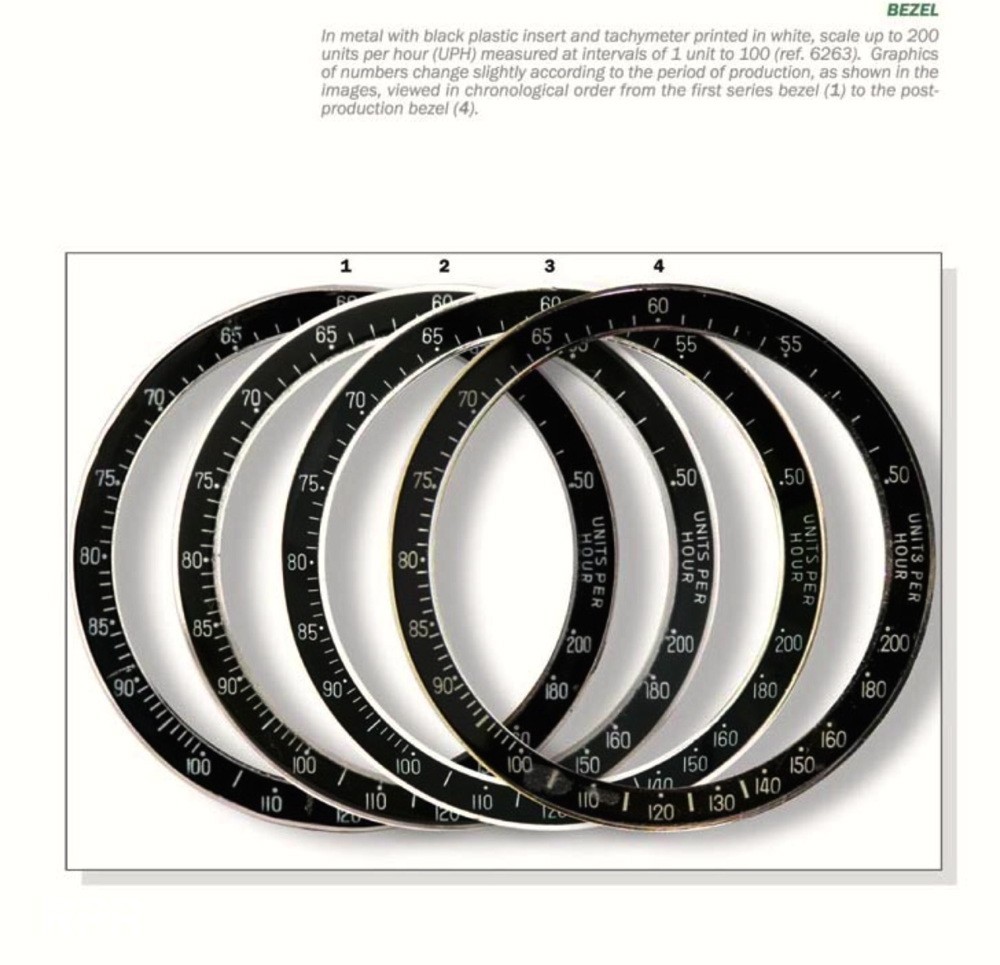 Rare reference Rolex Daytona 6270 in yellow gold, it is more a jewel watch to wear than a functional sports watch.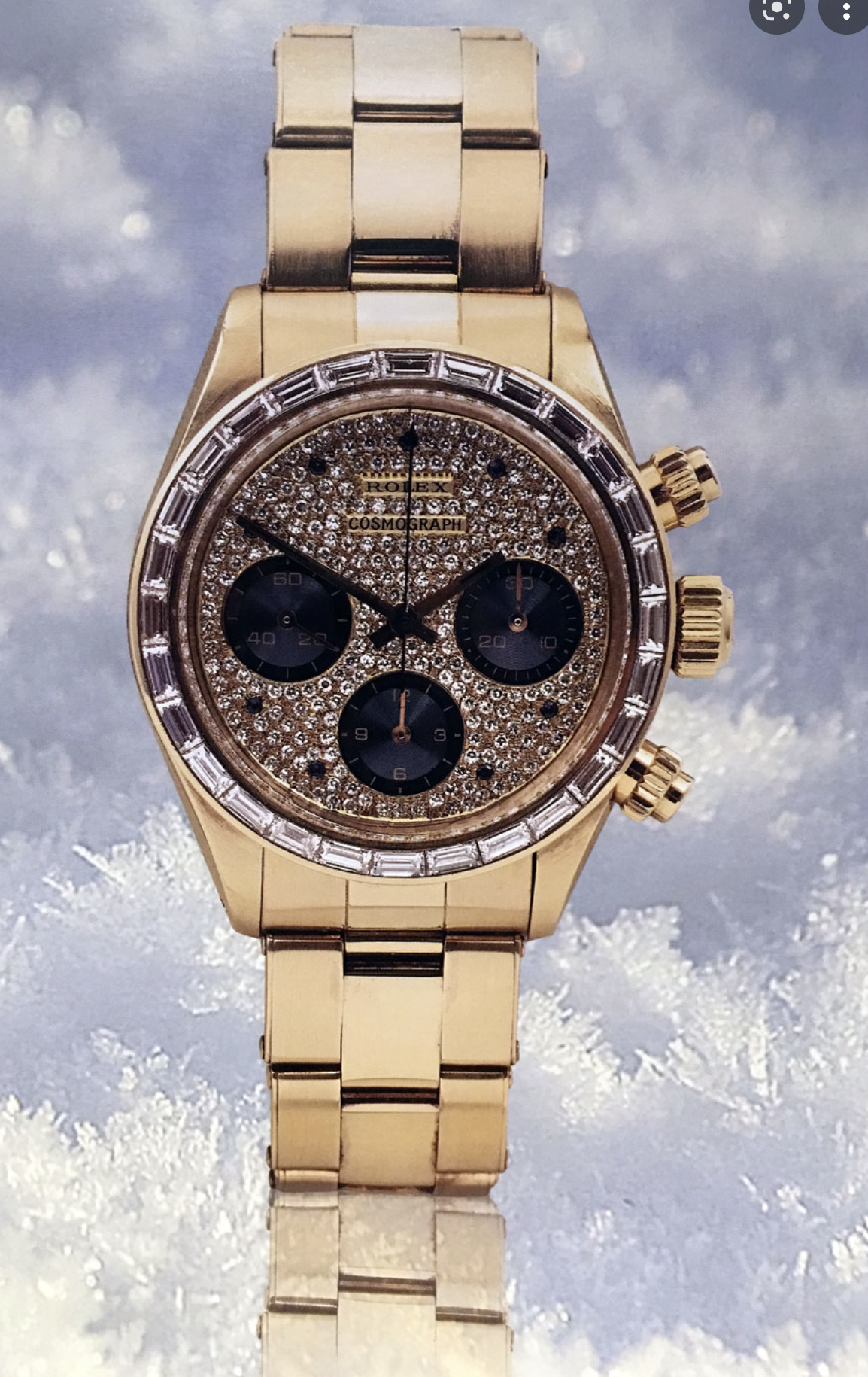 The following editions of Rolex Daytona watches have drastically changed, with the appearance of crown protectors, screwed pushers, as well as a thinner case middle more adapted to the wearer's wrist.
This is the reference 16520 which appeared in 1990 with a modified Zenith movement, replaced in 2000's with the new Rolex 116520 and its 4130 caliber in house.
The Mark I generation is an absolute grail for collectors and almost impossible to find as it belongs to the first generation of the new Daytona 16520 and produced in very small quantities.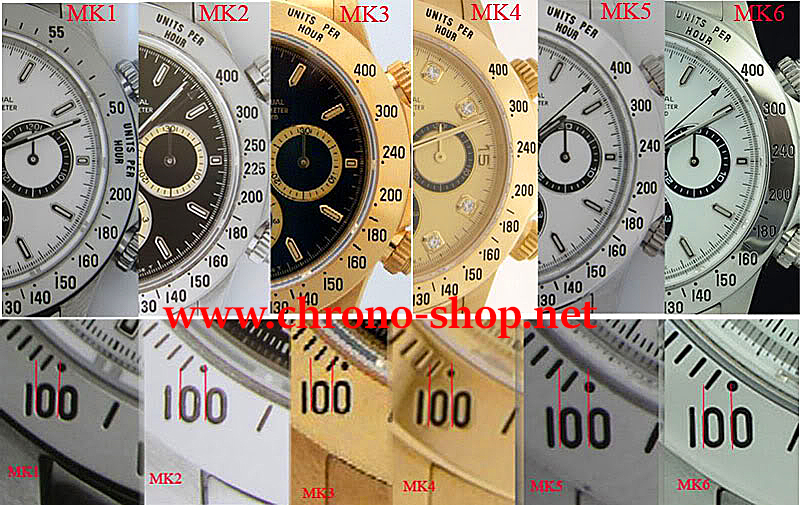 In 2016, Rolex inaugurated a major innovation on the Rolex Daytona watches with a ceramic bezel. The reference 116500 is born.
No major innovation...Rolex keeps the same caliber since 2001, the caliber 4130, and has not undergone any modification of the caseband for more than 20 years.
It is its ceramic Bezel that makes it a great asset with the new modern material that excels: ceramic.
Here is a comparison of the three generations of Rolex Daytona cosmograph watch bezels over a 50 year period:
Resin, stainless steel and today ceramic have been and still developed at Rolex factory.