By using it you open the case and create an access point for dust and water, both of these outside factors are huge enemies of a high end mechanical self-winding movement. This is the reason why the winding crown needs to have its own sealing system, one that is capable of perfectly locking the case and keep its interior clean.
Rolex is one of the brands that pay great attention to this aspect. Its crowns feature two patented sealing systems called twinlock and triplock. Both types imply a threaded screw-in crown that seals against a rubber gasket making the watch more water tight. In case you were wondering what's the point of having two types of locking systems, let me clarify this right away.
The water resistance required for a watch is what determines if the winding crown should be a twinlock or a triplock one.
Here are 2 types of Rolex crowns : twinlocks (2 x gaskets) and Triplock (3 x gaskets)
Here is a summary table which will allow you to identify the different types of Rolex  winders according to the models with their explanations by crown
Here are the classicals populars Rolex crowns made for Datejust lines men's and ladies (twinlock system)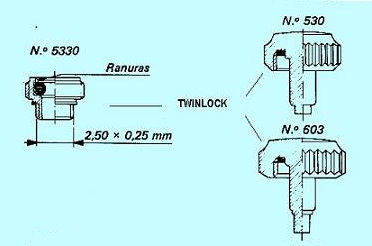 Here we have the triplock Rolex crowns models made especially for rolex Submariner and Sea-Dweller from end of 60's until end of 90's. The ref Rolex 702.
The ref 702 Was quickly replaced by part number 703, which performs the same functions with the same number of seals